Which is the Best Luxury Resort for Families with a Pool in Munnar 2023 – 2024| Heaven Inn Munnar
When you're planning a family getaway to the lush and picturesque landscapes of Munnar for the years 2023 and 2024, one thing is certain: you want your accommodation to be as memorable as the destination itself. Look no further than Heaven Inn Munnar, a beacon of luxury, comfort, and family-friendly experiences in the heart of this hill station. As you embark on your journey, let us introduce you to why Heaven Inn Munnar is the ideal choice for your family retreat.
A Welcome Oasis in Munnar for 2023 – 2024
Munnar in 2023 and 2024 is a vision of natural beauty, with the misty tea gardens, serene lakes, and cool climate that make it an ideal family destination. Amidst this enchanting backdrop, Heaven Inn Munnar offers an oasis of luxury and comfort, where you can create unforgettable family memories.
Heaven Inn Munnar: Your Family's Home Away from Home
In 2023 and 2024, Heaven Inn Munnar continues to be the epitome of luxury with a homely touch. The resort's architecture, inspired by Kerala's traditional heritage, seamlessly blends with the surrounding natural beauty. With spacious accommodations in the main building and Kerala-style cottages, you'll have all the space you need for a family stay.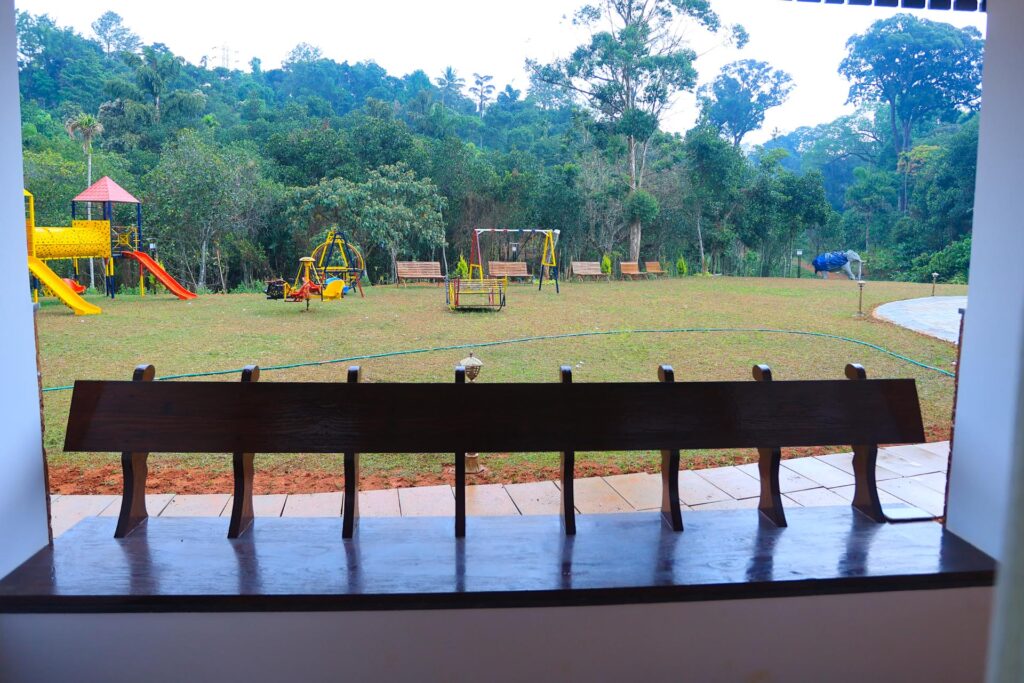 Family-Friendly Poolside Bliss
One of the highlights that make Heaven Inn Munnar the perfect choice for your family vacation is the family-friendly pool. The resort's pool area is designed for both adults and children, providing a safe and enjoyable space for your family to unwind. While you relax by the poolside, your kids can splash and play to their heart's content.
Culinary Delights for Every Member of the Family
Dining at Heaven Inn Munnar is a treat for the whole family. In 2023 and 2024, the resort offers a diverse menu that caters to every palate, including the preferences of your little ones. From classic Kerala dishes to international favorites, there's something to please everyone. The restaurant's welcoming ambiance ensures that every family meal is a memorable event.
Activities for Every Generation
Heaven Inn Munnar in 2023 and 2024 has a wealth of activities to keep every member of your family entertained. For the adventure seekers, there are trekking opportunities, nature walks, and outdoor explorations. The spa and wellness facilities offer relaxation for the adults, while the serene garden and the mini children's amusement park promise joy for the little ones.
Making Memories at Senkulam Dam, Munnar
The resort's proximity to Senkulam Dam adds an extra layer of excitement to your family's stay. During your visit in 2023 and 2024, explore the tranquil surroundings, enjoy leisurely walks along the dam, and let your kids revel in the serene natural beauty.
Reserve Your Family Retreat
As you plan your family vacation in Munnar for 2023 and 2024, Heaven Inn Munnar is your ideal choice for a luxurious and family-friendly stay. This is the place where natural beauty meets modern comforts, where culinary experiences are a delight for all, and where adventure and relaxation coexist seamlessly.
2023 and 2024 are the years to create cherished family memories. Heaven Inn Munnar is not just an accommodation; it's an experience that your family will cherish for years to come. Book your stay now and prepare for a family vacation that will be talked about for generations. Heaven Inn Munnar welcomes your family for a remarkable Munnar experience, and we look forward to being a part of your family's memorable journey.